Nestled within the Green Mountain State's verdant landscape, Vermont boasts some of the most enchanting lakes in the northeastern United States. These sparkling bodies of water not only offer picturesque views but also provide a range of recreational activities for visitors to enjoy. This article will take you on a journey through five of the most beautiful lakes in Vermont, highlighting their unique features and attractions.
lake champlain
Lake Champlain is a beautiful and popular tourist destination situated between the states of Vermont and New York in the United States, with a small portion extending into Quebec, Canada. The lake is approximately 120 miles (193 kilometers) long and 12 miles (19 kilometers) wide at its widest point, making it the sixth-largest natural freshwater lake in the United States. The region boasts a rich history, stunning scenery, and a variety of recreational activities for visitors to enjoy.
Here are some highlights and attractions you may want to consider when planning your visit to Lake Champlain:
Scenic beauty: The lake is surrounded by picturesque landscapes, including the Adirondack Mountains to the west and the Green Mountains to the east. Enjoy stunning vistas, hiking trails, and opportunities for photography throughout the region.
Boating and water sports: Lake Champlain is an ideal location for boating, sailing, kayaking, and canoeing. There are numerous marinas, boat rentals, and public access points around the lake.
Fishing: The lake is home to a diverse fish population, including lake trout, landlocked salmon, smallmouth bass, and walleye. Many anglers visit the region to try their luck and enjoy the peaceful surroundings.
Beaches and swimming: Lake Champlain offers several public beaches for swimming, sunbathing, and picnicking. Some popular beaches include North Beach in Burlington, VT, and Plattsburgh City Beach in Plattsburgh, NY.
History and culture: The region has a rich history dating back to the 17th century, with numerous historic sites, museums, and cultural attractions. Visit the Lake Champlain Maritime Museum, Fort Ticonderoga, or Shelburne Museum to learn more about the area's past.
Cycling: The Lake Champlain Bikeway is a 363-mile (584-kilometer) route that circles the lake, passing through both Vermont and New York. This well-marked trail offers cyclists stunning views of the lake and surrounding countryside.
Wildlife and birdwatching: The lake and its surrounding wetlands provide essential habitats for various species of wildlife, including migratory birds, turtles, and otters. Birdwatchers may spot ospreys, bald eagles, herons, and other waterfowl.
Local cuisine: The Lake Champlain region is known for its farm-to-table restaurants and locally-produced goods. Be sure to sample some of the area's fine dining options and visit local farmers' markets to experience the region's culinary offerings.
No matter your interests, Lake Champlain offers a wide variety of activities and attractions to make your visit memorable.
Lake Memphremagog
Lake Memphremagog is a beautiful freshwater glacial lake located in the Eastern Townships region of Quebec, Canada, and extending down into the northeastern part of Vermont, United States. It spans about 41 miles (66 km) in length and reaches depths of up to 351 feet (107 meters). The lake's name is derived from the Abenaki word "memrahabegek," which means "where there is a large expanse of water."
Activities and Attractions:
Boating and Cruises: Visitors can enjoy a variety of boating activities on the lake, such as kayaking, canoeing, sailing, and motor boating. Sightseeing cruises are also available, offering stunning views of the surrounding landscape and an opportunity to learn about the lake's history and ecology.
Fishing: Lake Memphremagog is a popular destination for fishing enthusiasts, with a wide variety of fish species, including lake trout, rainbow trout, brown trout, smallmouth bass, and walleye.
Swimming and Beaches: There are several public beaches along the lake's shoreline, perfect for swimming, sunbathing, and picnicking.
Hiking and Biking: The area surrounding the lake offers numerous trails for hiking, mountain biking, and nature walks. Some popular trails include the Massawippi Valley Trail and the Tomifobia Nature Trail.
Winter Activities: During the winter months, the area around Lake Memphremagog becomes a haven for winter sports enthusiasts, offering activities such as ice skating, ice fishing, snowshoeing, and cross-country skiing.
Historical Significance: Lake Memphremagog has a rich history, dating back to the indigenous peoples who lived in the area thousands of years ago. The Abenaki tribes were the primary residents of the region and used the lake for fishing and transportation. European settlers arrived in the 18th century, and the area gradually developed as a hub for logging, agriculture, and later tourism.
One notable historical attraction near Lake Memphremagog is the Saint-Benoît-du-Lac Abbey, a Benedictine monastery founded in 1912. The abbey is known for its stunning architecture, serene setting, and a small shop offering products made by the monks, such as cheese and cider.
Another historical site to visit is the Haskell Free Library and Opera House, a unique building that straddles the Canada-U.S. border in the towns of Stanstead, Quebec, and Derby Line, Vermont. The library and opera house were intentionally built on the border in 1904 as a symbol of international peace and unity.
During your visit to Lake Memphremagog, you'll find plenty of activities and attractions to suit your interests, as well as opportunities to learn about the area's rich history and cultural heritage.
Lake Willoughby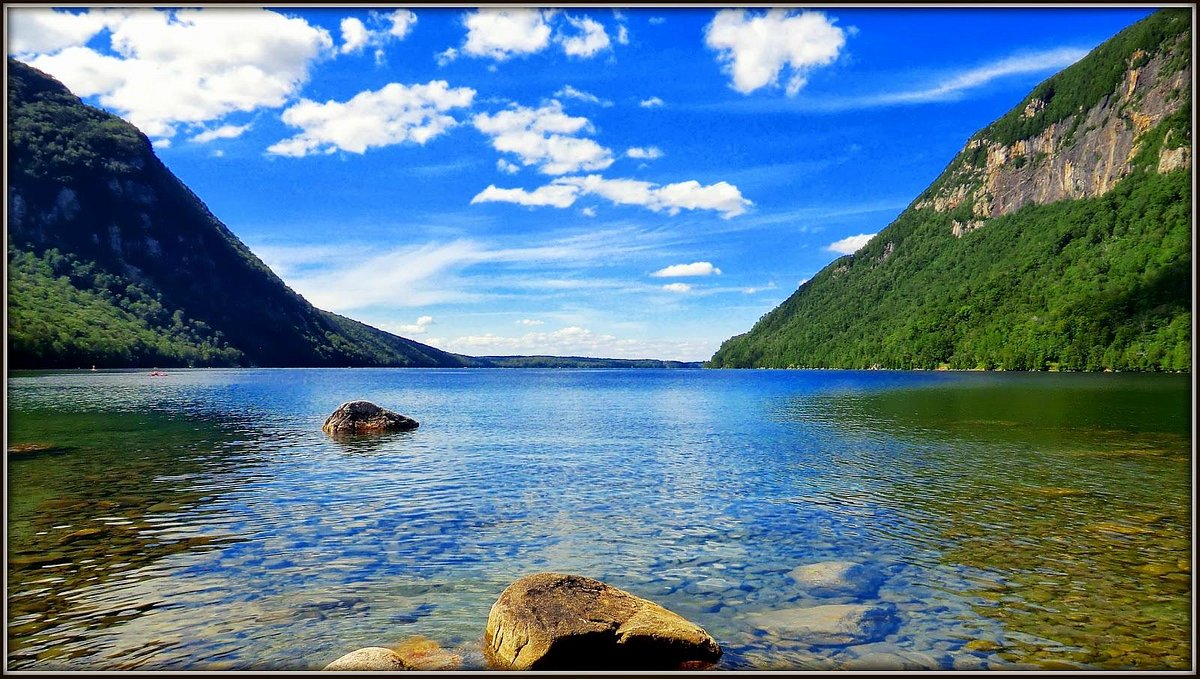 Lake Willoughby is a beautiful glacial lake located in the Northeast Kingdom of Vermont, United States. It is known for its pristine waters and stunning scenery, which includes the surrounding Willoughby State Forest and the dramatic cliffs of Mount Pisgah and Mount Hor. The lake is approximately 5 miles long and over 300 feet deep, making it one of the deepest lakes in the state.
Visiting Lake Willoughby offers a wide range of activities for tourists, such as:
Hiking: There are several hiking trails around the lake, including the popular Mount Pisgah and Mount Hor trails, which provide spectacular views of the lake and its surroundings.
Swimming: The lake has two public beaches, the North Beach and the South Beach, which are great for swimming and sunbathing during the warmer months.
Fishing: Lake Willoughby is home to a variety of fish species, including lake trout, rainbow trout, and brown trout. Fishing is allowed with a proper Vermont state fishing license.
Boating: Non-motorized boats such as canoes, kayaks, and paddleboards are welcome on the lake, allowing you to enjoy the serene environment and explore the shoreline.
Wildlife watching: The surrounding Willoughby State Forest is home to a diverse array of wildlife, including deer, moose, and various bird species, making it a great destination for nature enthusiasts.
Winter sports: During the winter months, the area offers opportunities for snowshoeing, cross-country skiing, and ice fishing.
When planning your visit, keep in mind that accommodations near Lake Willoughby are limited, so it's a good idea to book your stay in advance. The nearest towns with lodging options include Westmore, Barton, and Orleans.
Silver Lake
Silver Lake is a popular neighborhood located in the heart of Los Angeles, California. It is known for its trendy and artistic vibe, as well as its beautiful lake, which is surrounded by walking trails, green spaces, and picnic areas.
If you're looking to experience the arts and culture scene, Silver Lake is home to many galleries, theaters, and music venues. You can also find a variety of shops, restaurants, and cafes in the area, offering a diverse range of cuisine and products.
One of the most popular attractions in Silver Lake is the reservoir, which offers stunning views of the city skyline and the Hollywood sign. You can walk or bike around the reservoir on a paved path, and there are also plenty of benches and picnic areas to relax and enjoy the scenery.
Additionally, Silver Lake is a great spot for hiking and outdoor activities. Griffith Park, one of the largest urban parks in the United States, is just a short drive away and offers miles of hiking trails, horseback riding, and even a zoo.
Overall, Silver Lake is a vibrant and eclectic neighborhood that offers a little something for everyone. Whether you're looking to immerse yourself in the arts, enjoy the great outdoors, or simply relax and soak up the atmosphere, Silver Lake is definitely worth a visit.
Lake Bomoseen
Lake Bomoseen is a beautiful freshwater lake located in the western part of Vermont, United States. It's the largest lake entirely within the state, spanning approximately 2,400 acres. The lake is situated near the towns of Castleton and Hubbardton, making it easily accessible for tourists and locals alike.
Lake Bomoseen is an ideal destination for a variety of recreational activities, including boating, fishing, swimming, and hiking. The lake is home to several species of fish, such as largemouth and smallmouth bass, yellow perch, and northern pike, which makes it a popular spot for anglers. Additionally, there are multiple boat launches available, allowing for easy access to the water for boating enthusiasts.
The lake is surrounded by lush forests and rolling hills, providing a picturesque backdrop for hiking and nature walks. The Bomoseen State Park is located on the western shore of the lake and offers a range of facilities, including a beach area, picnic spots, and campgrounds. The park also has a network of hiking trails that offer scenic views of the lake and the surrounding landscape.
While visiting Lake Bomoseen, you might want to explore some nearby attractions, such as:
Hubbardton Battlefield State Historic Site: This site commemorates the Battle of Hubbardton, a Revolutionary War battle fought in 1777. The historic site features a visitor center and interpretive trails that guide you through the battlefield.
Half Moon State Park: Located on the eastern shore of the lake, this park offers additional opportunities for hiking, picnicking, and enjoying the outdoors. It also has a swimming beach and a boat launch for visitors.
Slate Valley Museum: In nearby Granville, New York, this museum showcases the history and heritage of the slate industry in the region. It offers exhibits, demonstrations, and special events related to slate quarrying and manufacturing.
Poultney Historic District: A short drive from Lake Bomoseen, this historic district in Poultney, Vermont, features well-preserved buildings dating back to the 18th and 19th centuries, offering a glimpse into the area's past.
When planning your visit to Lake Bomoseen, be sure to check the local weather and pack accordingly, as the area experiences a wide range of temperatures and weather conditions throughout the year. Overall, Lake Bomoseen is a fantastic destination for nature lovers, history buffs, and outdoor enthusiasts alike.
Lake Dunmore
Nestled at the base of the Green Mountains in central Vermont, Lake Dunmore is a picturesque body of water that captures the quintessential charm of New England. Covering an area of approximately 985 acres, this idyllic lake is the perfect destination for those seeking a serene escape surrounded by nature's beauty. The lake's pristine waters are ideal for swimming, kayaking, canoeing, and fishing, with species such as bass, perch, and trout populating its depths.
Visitors can also explore the nearby Branbury State Park, which offers a sandy beach, picnic areas, and well-maintained hiking trails, including the popular Falls of Lana Trail that leads to a breathtaking waterfall. For the more adventurous, the park also provides access to the challenging summit trail of Mount Moosalamoo, rewarding hikers with stunning panoramic views of the lake and surrounding landscape. With its captivating natural beauty, recreational opportunities, and relaxing atmosphere, Lake Dunmore is a must-visit destination in the heart of Vermont.
Conclusion
Vermont's breathtaking lakes offer a refreshing escape for nature lovers and outdoor enthusiasts alike. Whether you're seeking adventure or tranquility, the Green Mountain State's diverse bodies of water provide the perfect backdrop for an unforgettable experience. So, pack your bags and set out on a journey to explore the most beautiful lakes in Vermont. From the majestic shores of Lake Champlain to the serene waters of Silver Lake, each destination offers its own unique charm and allure. As you immerse yourself in the natural splendor of these pristine waters, you'll create lasting memories while connecting with the heart of Vermont's captivating landscape. Remember to tread lightly and preserve these natural wonders for future generations to enjoy. Happy exploring!