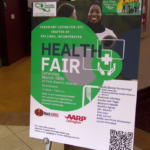 LEXINGTON, Ky (WTVQ)- One organization is helping raise awareness of the resources available in the community to stay healthy.
The Frankfort-Lexington chapter of "The Links, Incorporated" held it's Black Family Wellness health fair event today at First Baptist Church Bracktown.
Twenty organizations took part, including AVOL, the Kidney Health Alliance, AARP, and the University of Kentucky's cancer center.
There were health and dental screenings, life insurance information, fire and home safety information.
"There are so many barriers in access to healthcare. Whether that's an insurance issue, whether that's you live in an environment where there are limited providers, that has detrimental outcomes to individuals who are living in our communities and don't have access. So this is one unique opportunity for the community to come to us and for us to provide services available to bridge that gap," says Dr. Wendy Jackson, a co-organizer for the event.
The local chapter of The Links, Inc. is celebrating its 55th years.
<#####>