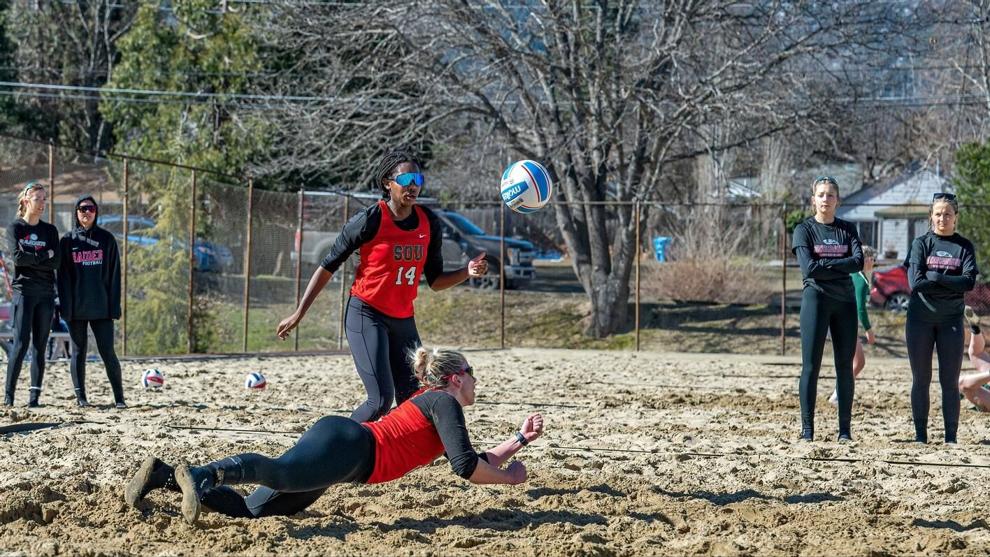 EUGENE – The results of the Southern Oregon University beach volleyball team's back-to-back against Corban and Bushnell mirrored those of a week ago, as the top-ranked Warriors won 5-0 and the Beacons won 4-1 on Saturday at Churchill Sand Volleyball Courts.
Once again, No. 2 pair Taylor Jackson and Karina Oliveira were responsible for SOU's win. They swept Bushnell's Roslyn McLellan and Madi Trueblood, 21-12 and 21-16, and improved to 5-4 on the season.
As a team, the Raiders went to 3-7. Corban stands at 14-2 and Bushnell at 6-8.
"Our game is progressing along but we are exceptional as partners and teammates, and we're playing with joy," SOU coach Paul Elliott said.
The Raiders play Northwest (Wash.) and Corban next Saturday in Salem, their final contests before the NAIA West Group Qualifying Tournament on April 6-8 in Chula Vista, Calif.       
CORBAN 5, SOUTHERN OREGON 0
1. Avari Ridgeway/Megan Dennis, CRB, def. Madi Gray/Skyy Nihipali-Botelho, 2-0 (21-13, 21-19)
2. Kianna Keeling/Cameron Keeling, CRB, def. Taylor Jackson/Karina Oliveira, 2-0 (21-8, 21-16)
3. Jessica McMillian/Ally Schmidt, CRB, def. Addison Weckerle/Savannah Schwindt, 2-0 (21-15, 21-13)
4. Maya Blake/Kealani Ontai, CRB, def. Kayla Neidigh/Simone Gordon, 2-0 (21-13, 21-13)
5. Jolinn Daviscourt/Kalisi Latu, CRB. def. Kiya Jackson/AC Reyes, 2-0 (21-6, 21-7)
Order of finish: 4-2-3-5-1
BUSHNELL 4, SOUTHERN OREGON 1
1. Makenna Northern/Logan Kaneshiro, BU, def. Madi Gray/Skyy Nihipali-Botelho, 2-0 (21-12, 21-7)
2. Taylor Jackson/Karina Oliveira, SOU, def. Roslyn McLellan/Madi Trueblood, 2-0 (21-12, 21-16)
3. Brooke Silvernail/Jadeya Hayes, BU, def. Addison Weckerle/Savannah Schwindt, 2-1 (18-21, 21-16, 15-11)
4. Laci Jespersen/Halle Neumann, BU, def. Kayla Neideigh/Simone Gordon, 2-0 (21-15, 21-13)
5. Abby Nelson/Anessa Stotts, BU, def. Kiya Jackson/AC Reyes, 2-0 (21-10, 21-15)
Order of finish: 2-4-5-1-3